To tap the increasing potential of investments in the Healthcare sector we widen our range of research reports and present to you our new segment of analytical reports - exclusively focusing on the Healthcare sector with a Product called - Healthcare Report. There has been a trend observed in recent years wherein investors are turning towards the equity market, in the face of global trade issues and lower returns on debt. A key sector gaining popularity and capturing the interest of market players is the Healthcare sector, presenting promising stocks with strong growth prospects.

The healthcare sector includes companies that are in the business of providing medical services, producing medical devices, manufacturing of drugs (including the emerging cannabis based drugs), furnishing medical insurance services, medical research labs, or any other company otherwise facilitating patientcare in medical related products or services.

The healthcare sector in Australia can be divided into different categories such as-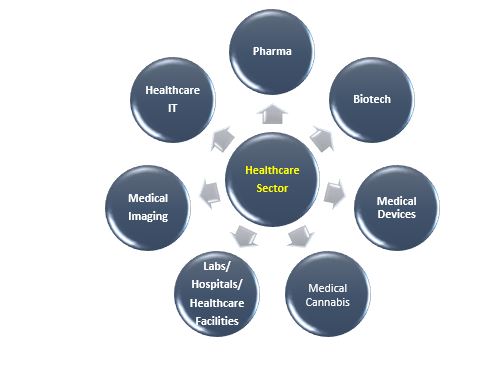 The above are just exemplary categories that we have tried to touch upon while there are more in the kitty as the healthcare space is well-known for its defensive and diverse nature. Let us have a sneak peek of some of the relevant categories:
1. Pharma
The pharma industry of Australia would encompass medical research, generic and originator drug manufacturers and service providing divisions like supply chain management through wholesaling and distribution. Some of the major players in the Australian pharma market (according to market share) include names like - Ramsay Health Care Ltd, Resmed Inc., CSL Ltd, Sonic Healthcare Ltd, SUDA Pharmaceuticals Ltd., and Fisher & Paykel Healthcare Corporation Ltd.
2. Biotech
Australia's healthcare industry is driven by high-quality research facilities, world-class scientists and a robust regulatory regime. Australia has a rich network of close to 500 biotech companies and businesses. Some of the key players in the Australian biotech and bio-pharma market include names such as - Imugene Ltd, Monash IVF Group Ltd, Prescient Therapeutics, and Noxopharm Ltd.
3. Medtech/ Medical Devices
Any healthcare industry is incomplete without the inclusion of medical devices and diagnostics market. Australia has a considerable number of listed Medical Devices and Diagnostic companies. Some of the big players in the Australian medical devices industry include names like - Medical Developments, EMVision Medical Devices Ltd, Compumedics, and Osprey Medical Inc.
4. Medical Imaging
Diagnostic imaging offers essential and vital details about the health of a patient under observation. Medical imaging facilities include X-rays, MRI and Ultrasound that have proven to be highly resourceful in proving superior quality health-care treatments by diagnosing the ailment of a patient with precision, to help the medical professionals chalk out the right path to treatment. Some of the major players in the Australian medical imaging industry include names like- Micro-X Ltd, Resonance Health Ltd, Optiscan Imaging Ltd, and Telix Pharmaceuticals Ltd.
5. Emerging Medical IT Start-up
Assessing the potential of the healthcare industry one can observe many medical IT start-ups emerging on the horizon. Some of the noteworthy and top medical start-up companies in healthcare industry (based on funding received) include - Nanosonics Ltd, Pro Medicus Ltd, and Volpara Health Technologies Ltd.

6. Medicinal Cannabis
The Australian market for emerging medicinal cannabis space is picking up with a steady rate as one of the promising markets for investments. Australia is well rich in its home-grown marijuana and has a rich experience in the agri-pharma business, catering to almost fifty percent of the global supply of legal poppy seeds. The recent legalization of medical cannabis shall further increase the scope of growth. Some of the major players in the Australian medical cannabis industry include names like – Cann Group Ltd, THC Global Group Ltd, AusCann Group Holdings Ltd, Cannpal Animal Therapeutics Ltd, Zelda Therapeutics Ltd, Elixinol Global Ltd.

In view of the above backdrop and the resilient nature of the sector, it is imperative to understand that Healthcare space is usually treated as a safer bet even for naive and first-time investors. The last couple of years saw a rapid increase in the development and advancement in the Australian Health Industry, and below are some of the drivers that are triggering the next leg of growth in this space:
i. Aging Demographics: Medical Care related requirement of Baby boomers is a key governing factor towards the upliftment of performance of Healthcare space. This just doesn't signify retirement; it is also a reflection of the increase in medical facilities and the need for medical advancement they would require.

ii. Advancement in Technology: Due to tremendous unmet needs in the healthcare sector, technology is playing a crucial role in abridging the gap between healthcare requirement and appropriate solution.

iii. Funding and Investment by Government: With the Government set to define a promising budget for the development in this domain, the Australian continent is ready to experience a drastic rise in the number of hospitals, infrastructure development of medical centers, advancement in medical technology, improvisation and modernization of the pharmaceutical sector.
Looking from equity standpoint- if we analyse the benchmark S&P/ASX 200 Healthcare index, its one-year annualised return comes in around mid-double digits. The index has found support from stock price movement of big players like CSL, Cochlear etc., while exponential price movement has also been noted for smaller players like Avita Medical Ltd, Pro Medicus Ltd, etc., in the last one year. To give a glimpse of how we can help investors to generate wealth over a period from interesting healthcare opportunities on ASX, we aim to cover the stocks that have the potential to outperform in the short to- long term.

Making the right investment or trading decision is never quick or easy. This is precisely where our reports on the Healthcare sector will come-in to ease the dilemmas around investments, by providing thoroughly researched recommendations about which healthcare stocks to buy, sell or hold. Our key goal at KALKINE is to provide investment ideas to clients enabling them to navigate and achieve success in the complex healthcare market. Stocks are subject to swings or market fluctuations on an ongoing basis and for that reason primarily, an investor should be interested in taking advantage of these fluctuations.

So then, if you are on a look-out to invest in the right stocks - in the highly potent healthcare market; look no further! - Kalkine has it all set for you to sit back and go through our thoroughly research-enriched analytical healthcare reports.


Stay apprised, Invest wise with KALKINE!